Horrible Cases Of Medical Malpractice That Will Leave You Aghast!
70 year old Graham Reeves of Wales died after not one, but two surgeons removed the wrong kidney.
Willie King, who suffered from diabetes, received a total of $1.15 million after his right leg was amputated by mistake (with the correct leg being amputated later).
Rhode Island Hospital could be forgiven for being more worried than most. Despite being the most prestigious hospital of the state, and a teaching hospital for students of Brown University, the hospital made the basic yet tremendous mistake of operating on the wrong side of a patient's brain. Three times in one year.
Here are some of the most horrifying cases of medical malpractices:
Quest for Beauty Went Awry at the Hands of a Fake Surgeon
The bodybuilder, a former Mr. Mexico and a runner-up Mr. Universe, just wanted his pectorals enhanced and decided he wanted to get pec implants. When he awoke from his surgery, he discovered that while he had been given implants, he was actually given breast implants (C-cups), and not pec implants.
Waking To A Nightmare
Carol Weihrer had long suffered pain in her right eye, Weihrer had been living in pain from a severely scratched cornea for years and had already undergone 17 surgeries to try to fix it. She finally decided to go with the doctors advise and have her eye removed, so that her quality of life would be improved. She explained that anesthesia is made up of two different elements, one to paralyze the patient, and one to put them to sleep. Unfortunately, only the paralyzing agent worked fully in her case, and halfway through the operation, she woke up but could not move at all. She was horrified to hear the surgeon listening to disco music throughout, as well as having to hear things like "Cut deeper, pull harder". Carol was awake for the exact moment they removed the eye.
On Fire in The OR
Catherine Reuter, 74, suffered second and third-degree burns after a cauterizing tool caused the alcohol based disinfectant on her face to catch fire. The incident led to strong infections, kidney failure, and long-term sedation. Reuter never fully recovered, and died in hospital two years later.
Abandoned Surgical Object in Man's Chest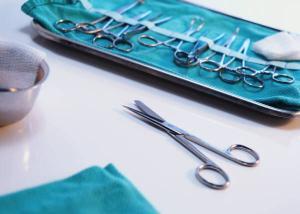 Daryoush Mazarei's case out from other examples is not the fact that the item left behind inside his chest, a retractor, was 10 inches long, nor that it could physically be seen poking out. It is when he was told he should consider psychiatric therapy. A month and many complaints after his surgery, Mazarei was finally given a CT scan and that's when a huge medical mistake was discovered and removed.
Anatomy of a mistake
Jesica Santillan was a 17 year old girl who was battling a congenitally enlarged heart and failing lungs, died 15 days after receiving a heart and double-lung transplant. The story should have had its happy ending, except that Jesica got the wrong organs—a heart and a pair of lungs from someone with type-A blood, not Jesica's type O, something over a dozen people were supposed to check, but didn't. The hospital hid the mistake for 11 days, and then went public looking for another donor. She received a second transplant two weeks after the first one, but was declared brain dead and taken off life support. Her mother believes that she was weaned off her medication so she would seemingly pass away naturally.
An Accident
Kim Tutt was told by my doctor that she had small cell neuroendocrine carcinoma, a fatal form of cancer and that she was going to die. After undergoing further examinations, she was told she had 3-6 months to live. The doctors told her she could possibly get an extra three months if they removed the left side of her chin, right up to her ear, and replaced it with her fibula. Desperate to spend more time with her 10 and 12 year old sons, she underwent the procedure. Three months later, she was called to the doctors office, who gave her the good news that she was cancer free. The bad news was that she had in fact never had cancer at all. There had been a mix up in the lab, and Kim Tutt had gone through five surgeries and been left disfigured for nothing.
The following two tabs change content below.
Latest posts by Maulshree Tewari (see all)
Do you have any comment on this?
comments